Adding your General settings
Adding your General Settings
This is where you will be filling details relating to payment, inventory, etc. You will have to fill
whichever is relevant to your Business.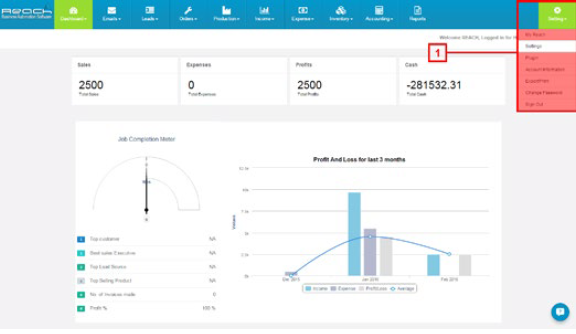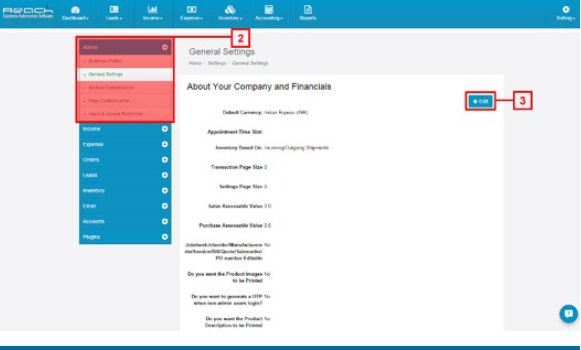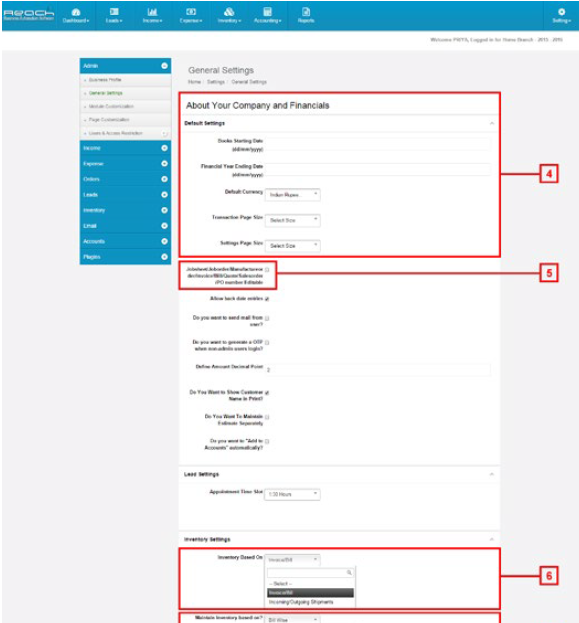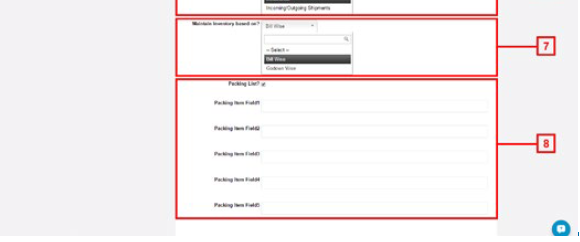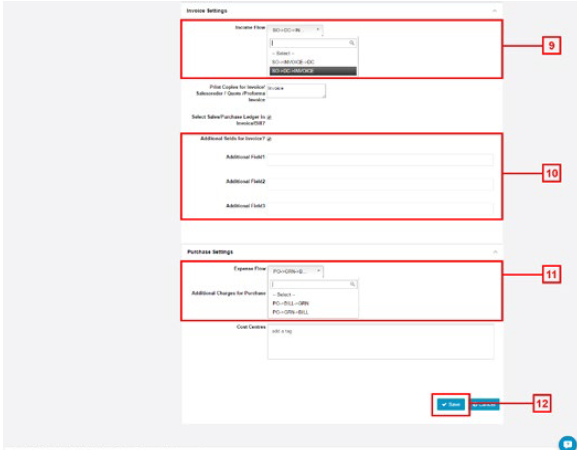 Step 1 : Click Settings
Step 2 : Click General Settings under admin
Step 3 :Edit
Step 4 :Select Books Starting Date, Financial Year Ending Date, Default Currency,
Transaction Page Size, Settings Page Size,
Step 5 : If you enable the check box (you can edit the Job Sheet/Job Order/Manufacture
Order/Invoice/Bill/Quote/Sales Order/PO voucher number)
Step 6 : If u select the inventory based on invoice/bill (or) incoming/outgoing shipments
(as invoice/bill it automatically triggers the output from Inventory followed
by invoice/bill, if you select incoming/outgoing shipments dramatically changes
the process in inventory)
Step 7 : If u select the Maintain Inventory based on Bill wise (or) Godown
Based on your business follow.
Step 8 : If you want to add Packing List you can enable the check box
Step 9 : If u select the income flow so-> dc-> Invoice (or) so-> Invoice -> dc
(as so ->dc -> invoice it automatically triggers the output from sales order followed
by dc and get ends in invoice
if you select so -> invoice -> dc it dramatically changes the process from sales
order followed by invoice and ends in dc)
Step 10: If you want to add some additional fields in Invoice/Sales Order Quote
you can enable the check box
Step 11 : If u select the Expense flow Po -> Bill -> Grm (or) Po -> Grm -> Bill (As
Po -> Bill -> Grm Expense it automatically triggers the output from Purchase
order followed by Bill and get ends in Grm
if you select Po -> Grm -> Bill it dramatically changes the process from Expense
followed by Purchase order and ends in bill
Step 12 : Save